Ken Milano's History of Penn Treaty Park book published
Submitted by Fishtown_Dave on Wed, 01/28/2009 - 1:24pm.
From an e-mail from local historian Ken Milano: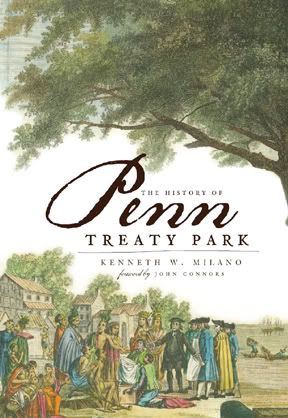 "Greetings fellow Kensington & Fishtown lovers!
"I am writing to let you know that my 2nd book has been published by The History Press. It is called The History of Penn Treaty Park. It sells for $19.99. I will be handling the book at my home and local events (Shad Festival in April, Trenton Ave Art Festival in May) and it will also be in the big chain stores like Barnes & Noble and Borders, as well as smaller chain stores like Atlantic Books (the stores down at the shore points). Local independent booksellers will also be carrying it (Port Richmond books on Richmond St above Ann, Germ Books on Frankford Ave above Norris St, Bookhave at 22nd & Fairmount, and probably Jospeh Fox in town, and a coupe of others). Local vendors like Greengrows on Cumberland & Gaul, will also be carrying it. It will also be online at Amazon.com, Abebooks.com, biblio.com, ilab.com, and a couple of others."